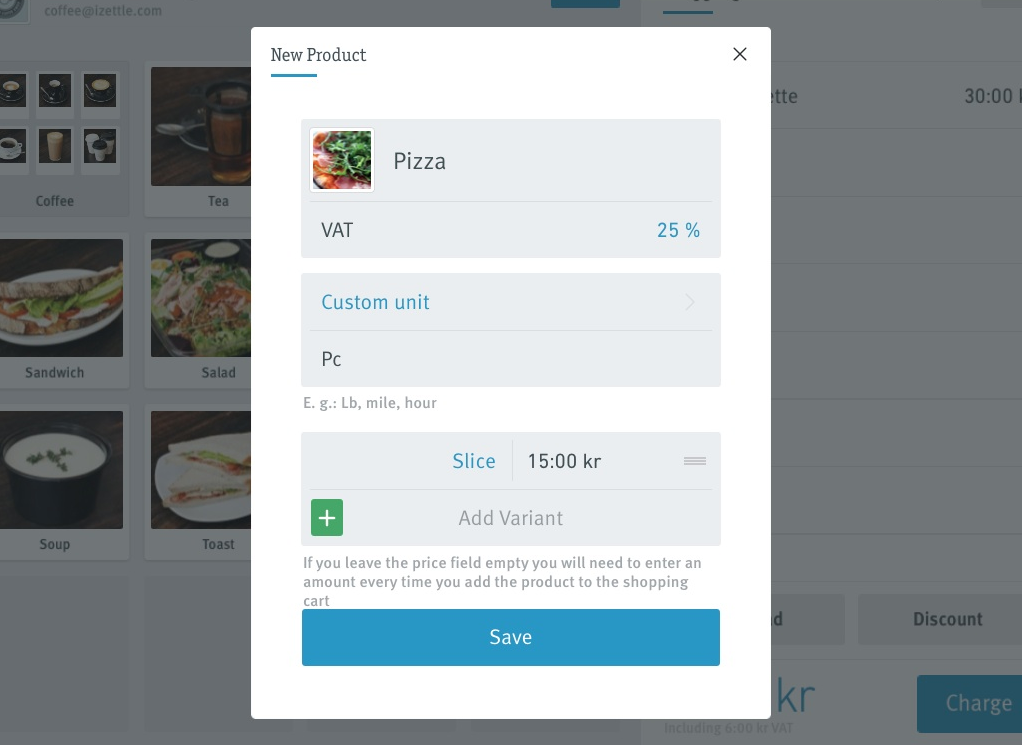 Good news, iZettlers! Today we've released two updates to the product library that have been much-awaited by many of users: custom units and variable pricing!
With the arrival of variable pricing, you now have the option to leave the price field empty when adding a new product to your product library. Then, you simply add the price you want to charge at the time of payment. Voila, variable pricing! This feature is great if you, say, own an antique shop with a jillion different types of chairs and don't feel like entering each one as an individual product in your product library. Instead, just add a general product called "Chair" and leave the price field blank. Then, you're free to  charge €20 for that old yard chair you found in the alley, and €300 for the vintage Eames chair.

On top of this, we've also made it possible for you to sell your products by the kilo, meter, liter or even minute. This is what we call "custom unit" pricing. Now, when you add a new product to your library you'll be able to enter the unit of the product (such as kilo) and the price per unit. When adding the product to the shopping cart, you'll just need to enter the number of units sold and the price will be automatically calculated. Naturally, this is a great update if you sell bananas by the kilo, ribbons by the meter or Swedish massage by the minute.

We're really excited about these new features, and hope that they'll speed up your payment flow! The updates are available on Android for now but will be released on iOS very shortly, so make sure to update your apps!

If you're new to iZettle, you can download iZettle 2.3.0 for Android on Google Play and iZettle 3.3.0 for iOS on the App Store. Both free, of course!