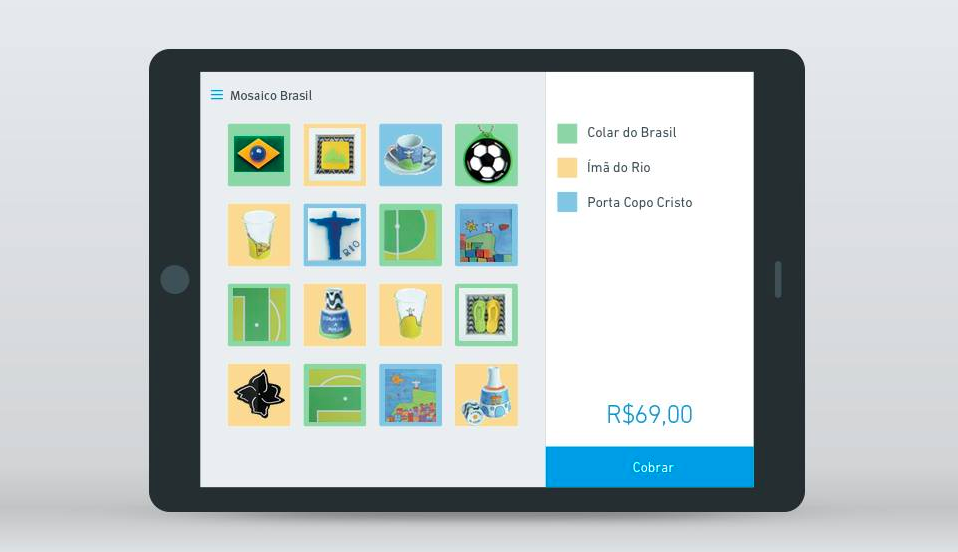 Olá! It's that time of year again - whether you're fans or not, it's almost guaranteed that you'll be watching the games. And here at iZettle, we're excited to introduce a brand new selection of all star players, fresh from Brazil!
With a slight team advantage, at 30 players, these merchants are part of a huge pop-up store which opened 12th June and runs through to 13th July. The Mosaic Store Brazil is one of the main attractions of the Ball Park, with all things Brazilian being sold ranging from clothes to accessories, decorations to gifts and food and drinks - caipirinhas and coxinhas for us please! After the launch of our Chip & PIN reader in Brazil on 10th June, this Mosaic Store pop-up kick starts the use of mobile payments for many of the merchants, also giving them the opportunity to warm up with our app and sales tracking tools. Score!
Just as football fanatics go crazy about their teams and players, we're the same with these merchants, who are right at the heart of the main event. So, we'd like to introduce a couple of the stars…
Maristela Simões Bath & Home is a small soap and handmade cosmetics boutique, based in Rio de Janeiro. The development of Maristela and Alberto Marcos began in 2004 with the dream of pursuing a sustainable, better quality of life. Now, aiming to expand and grow their business, Maristela uses iZettle to take card payments for events and to equip their store going forward.
Vestbag brings in a new, intelligent concept in backpack design that fits to the body and distributes weight accordingly, whilst of course, sporting green and yellow. Made of a really lightweight material, it's ideal for carrying round computers, tablets and books - add an iZettle Chip & PIN into the mix and there's your POS system right there, on your back! Finally, the collection wouldn't be truly representative of Brazil without the typical thongs being fashioned either (that's flip flops to us Brits). Havaianas eat your heart out, we're all for Vestbag!
We're quite lucky here at iZettle, because 5 out of our 9 markets are participating in the games this year. That means, we can be a bit cheeky and bend the rules by picking and choosing who to support out of England, Spain, Germany, Mexico or Brazil, depending on their performance! So we're feeling quite optimistic about our chances this year. But either way, we're rooting for a great cup for everyone!