Important info about taking payments without a card reader
This communication was sent starting 10 March 2016 to users who had used these features:
Over the last few months, you've taken card payments without using a Card Reader Lite or Pro Contactless. When you don't have a card reader connected to your smartphone or tablet, the iZettle app enables you to take card payments manually using these methods:  
For MasterCard or American Express, you select "Manual Entry" in the app and enter the customer's card number, expiry date, and CVC-code in order to take the payment.
For Visa cards, you select "Visa payment" in the app and enter your customer's mobile phone number. The cardholder receives an SMS with a link to a webpage where they can enter their card details to complete the payment.
This is how it looked: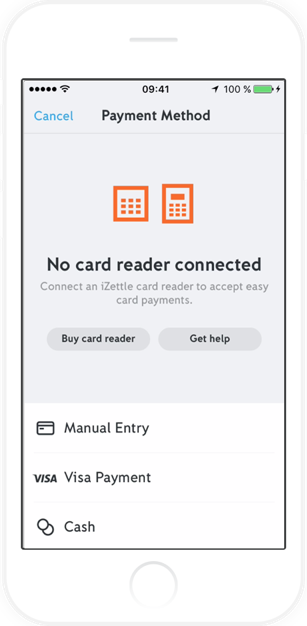 We're now phasing out these payment methods, and after March 16th 2016 you'll need to use a iZettle Reader, Card Reader Lite, Pro or Pro Contactless in order to take all card payments with iZettle.
If you don't have one of these card readers, you can order one from my.izettle.com today. The card reader should be delivered within 3 business days. 
If you already have one of these card readers, simply make sure it's connected to your device before taking card payments.
For more information on
how to take card payments using the card readers
, please visit our Support pages, where you can also get in touch with us.
Don't forget that the iZettle Reader, Card Reader Lite, Pro and Pro Contactless all support Visa payments without the need to send your customer an SMS and that your customer must be physically present when taking the payment.
Need more help?
If you can't find what you're looking for, please get in touch. Our Support team is on duty 9:00 am - 5:00 pm on weekdays.
Call us on: 0203 699 9934