Tipping
How does the iZettle tipping function work?
How do I activate the tipping function?
How do I start receiving tips?
Refund tip​
MAX level for tip​
Does iZettle take a cut of the tips?
Can I see a total of all my tips in my sales reports?
Can I deactivate the tipping function?​
iZettle's tipping function allows your customers to add an extra amount to their bill, and they can do so straight into your card reader. This function only works with an
iZettle Reader / Reader 2
.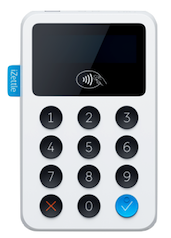 It is important that you understand how to receive and declare tips according to local tax authority regulations. Read more about tax regulations in UK
here
. Tips that have been accepted with an iZettle Reader will be presented in full on your iZettle sales reports and on your receipts. 
The iZettle tipping function only works with an iZettle Reader. 
To be able to accept tips, you need to be running the latest version of the iZettle app on your smartphone or tablet. The tipping feature is available for both iOS and Android devices. 

Your card reader must have the latest software before you can accept tips, make sure you have updated the iZettle reader. How to update your card reader

To then be able to start accepting tips with your card reader, you lastly need to activate the feature in the app. You will find the tipping function in "Settings" > "Payment settings" / "Card".
Place your products/enter your order into the shopping basket on your iZettle app or simply enter an amount.

Tap "Charge" and select card as payment method.

The card reader will now ask your customer if they want to add a tip. Hand over the reader to the customer. 

If they say yes, they will be asked to enter an amount. After that, they simply enter their PIN. 

You can now print, text or email a receipt to your customer.
It is not possible to refund a tip straight from your app. If you wish to refund a tip, you can do so on my.izettle.com. 
To prevent accidental or invalid amounts (for example if the customer enters their PIN code instead of a tip amount), the maximum tip level is set to 50%. If the customer enters more than 50%, the card reader will show a "too high amount" warning message.
For all card payments, iZettle takes a transaction fee based on the total amount. Read more about our prices here.​
Yes, total tipping is shown in all printed, web and in-app sales reports under "tips".
You can deactivate the function at any time in "Settings" > "Payment settings" / "Card".
Need more help?
If you can't find what you're looking for, please get in touch. Our Support team is on duty 9:00 am - 5:00 pm on weekdays.
Call us on: 0203 699 9934
Need more help?:
help.uk@izettle.com