Get started with iZettle E-commerce
Start selling online in a few simple steps:
1. Activate and explore E-commerce
Create an account with iZettle or log in to get started here.
Log in to my.izettle.com with your new account and navigate to the 'E-commerce' tab, there you can activate the iZettle E-commerce product. Try out the E-commerce product for free for 14 days.
After activating your iZettle E-commerce account for the first time you will be taken to your E-commerce dashboard. The best way to get to know this system is by taking a look around.
In the left-hand navigation bar of your E-commerce dashboard, click 'Your online store' and then Preview. This will show you a very basic version of your online store. Once you've had a look around it's time to update your products.
Watch this training video to learn the basics of selling online with iZettle E-commerce. It shows you everything you need to know in just 15 minutes. Let us show you how to navigate the new E-commerce dashboard and take your first steps.
2. Adapting your products for online sales
So far, you've been selling products face-to-face so the items in your inventory don't have any descriptions. If you want them to sell well online, you need to add some snappy text and beautiful photos. Once you've adapted your products, you can sort your online products into categories and subcategories to make it easier for your customers to navigate your online store
Read more about how to manage your products for selling online here.
3. Choose how you want to sell online
With iZettle E-commerce, you can choose where and how you want to offer your products online. You can choose to create a full online store, embed your products as widgets into your existing site or blog, or sell on social media.
Selling on an iZettle E-commerce webshop
If selling multiple products will be the main focus of your website we recommend you build a full online store with iZettle E-commerce. You can add a blog or other pages to your online store to replace an existing website if needed. Try to think about how you can give your customers the best user experience online when visiting your business. Read more about customising your store here.
Skip to the next step and learn how to build an online store.
Selling on an existing site or blog
If you already have a website or blog that you are pleased with and just want to sell a few products it may be a better solution to embed the iZettle E-commerce products into your current page.
You can embed a simple "buy-button", a product, or a larger store widget into your existing web page.
Read more about adding an embedded buy button or widget to your website here.
Check out how to sell on popular sites like WordPress, Wix and Squarespace.
Selling on social media
Using the Shop tab on your Facebook business page, your customers will be able to browse your items from their Facebook account and then make a purchase through the checkout on your online store.
This process will allow customers to purchase in a simple way on their mobile and increase potential sales.
Learn how to add a store to your Facebook page here.
In the next step, we will show you how to build an online store with iZettle E-commerce.
4. Pick out a theme and customise your store
Once you've perfected all your products and moved them into categories, it's time to take care of the look and feel of your online store. Do this by heading back to your E-commerce dashboard and choosing one of our professional themes.
From your E-commerce dashboard, click on Your online store > Themes and pick one that you like the most.

Read more about setting up a theme here.
Once you view and install the theme of your choice, you will be redirected to the store builder. Here you can customise the look of your store.
Add some content to your online shop like videos, text and images using content blocks.
Decide how you want to display your products on your store using products or category blocks.
Add a banner image or video carousel.
Add your logo to the top navigation on your site and customise your store colours, pages, and buttons.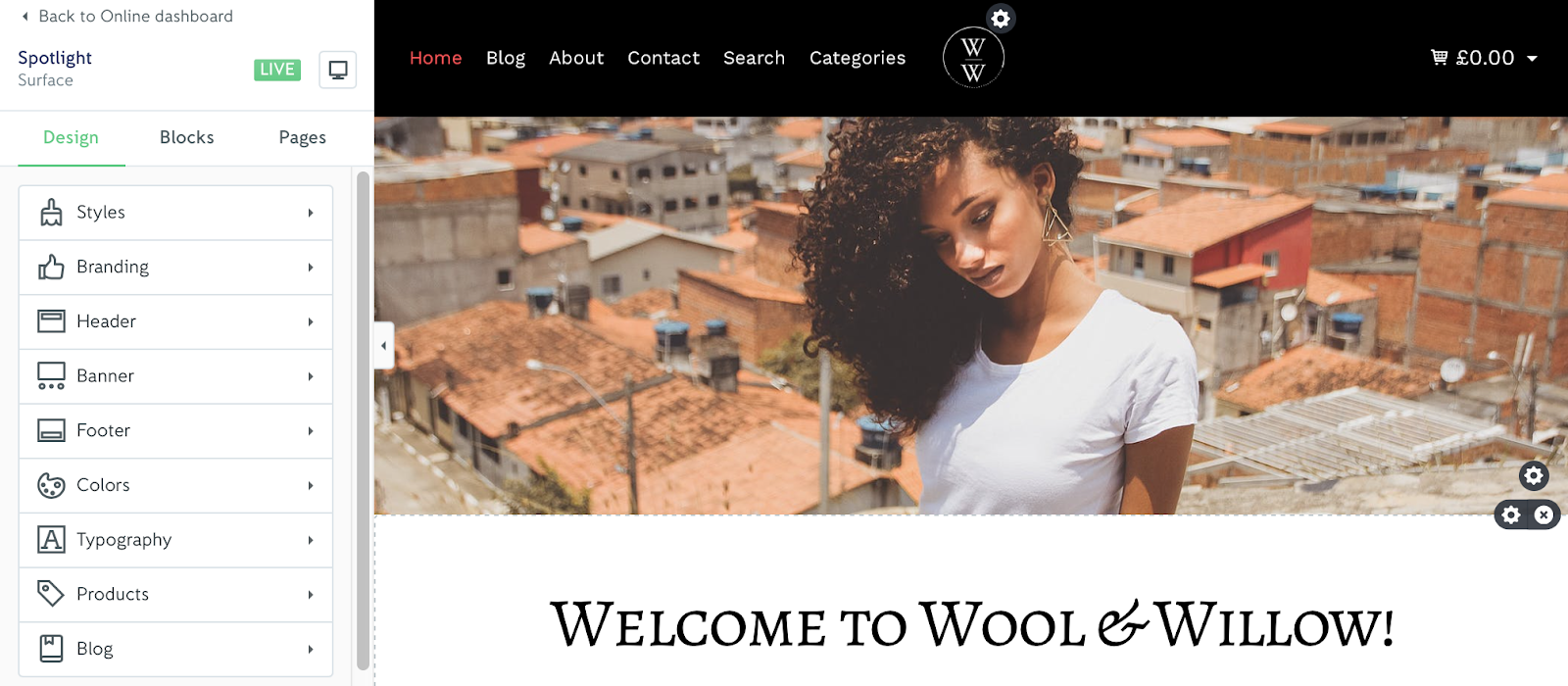 Read more about content blocks and customising the look of your store here.
5. Configure payments and shipping
Head to your E-commerce dashboard and take a look at the settings tab to make adjustments to things like abandoned cart emails, shipping, and taxes.
Learn how to set up:
6. Connect a domain
Manage your subdomain, add an existing domain or buy a brand new domain by going to your iZettle E-commerce dashboard and clicking on Store > Settings > Domain > Manage. Your domain by default is yourstorename.selz.com. You can leave it as is, or you can purchase a new domain and you will be directed to google domains so that you can complete the checkout process. If you are outside the list of countries that Google services, iwantmyname.com will appear as an option. You can also point your store to an already existing domain with these instructions.
7. Promote your new store
You are now ready to start selling online! Congratulations! Let's tell the world about it!
Sharing on social media
From your product library, when you're editing a product you can click the 'share' option to quickly create a post on one of your connected social accounts like Facebook, Pinterest and Twitter. This is also where you would copy your URL for your new product if you want to link directly to it on social media.
Email marketing
You can use email marketing to let your customers know about new releases and special offers, or keep them up to date on events in your physical store.
When you send your customers an email receipt, you can include a question about whether they would like to receive newsletters from you in the future. A list of the customers who accept can be found in the left-hand navigation bar of your E-commerce dashboard under 'Customers' and then 'Accept marketing'. Read more about this feature here.
To send regular updates to your customers, install an app like MailChimp to create targeted emails or newsletters based on sales, preferences and customer behaviour.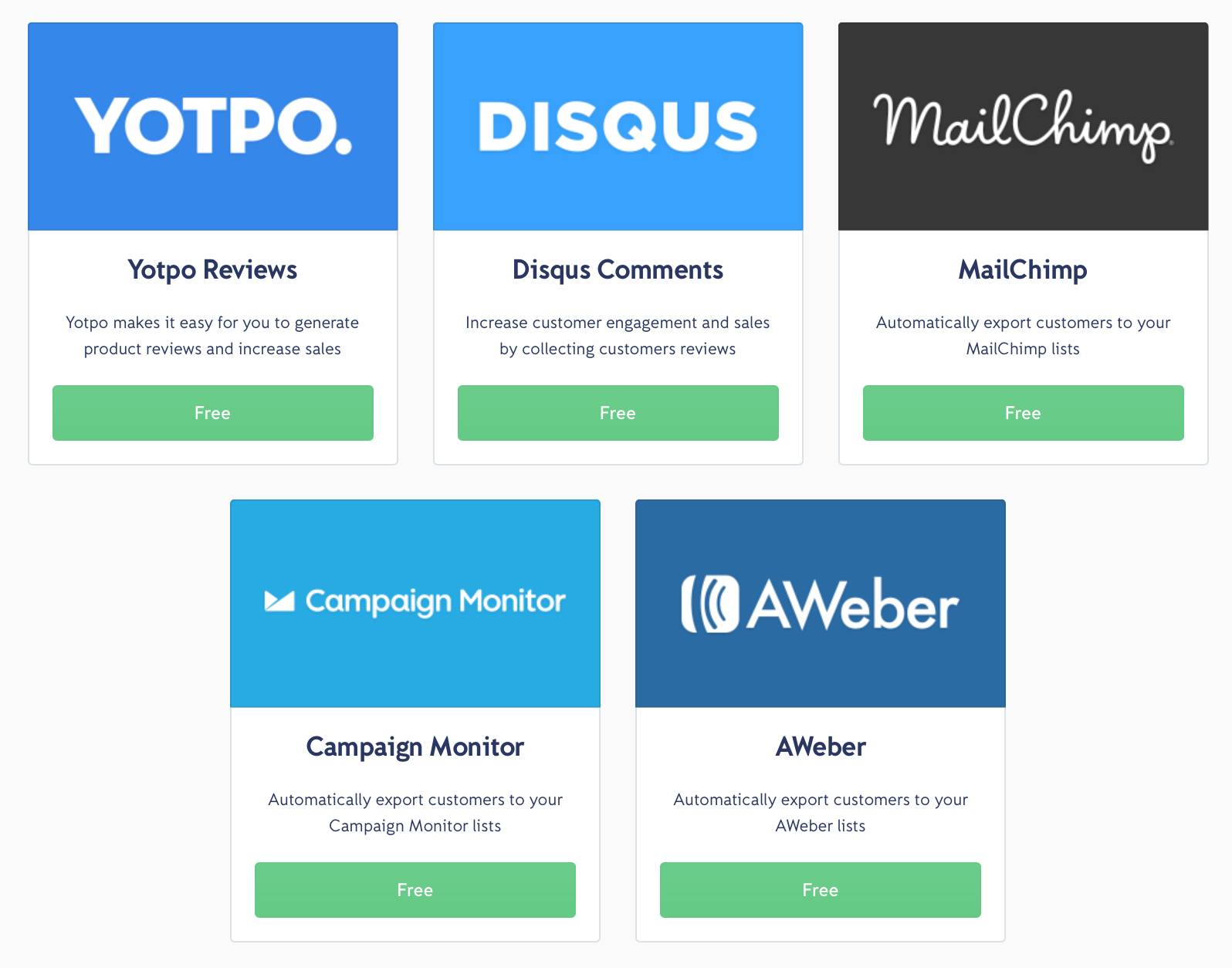 Was this article helpful?