Adding buy buttons or widgets to an existing site
If you already have a website or blog that you are pleased with and just want to sell a few products it may be a better solution to embed the iZettle E-commerce products into your current page.
Adding a button, widget or an entire online store to your website is a snap. All you need to do is add a tiny bit of code to your page and your customers will be able to purchase your products without leaving your site. Some of the steps vary depending on your platform.
If you are interested in creating a new online store instead, check out our demo themes to see what your store could look like.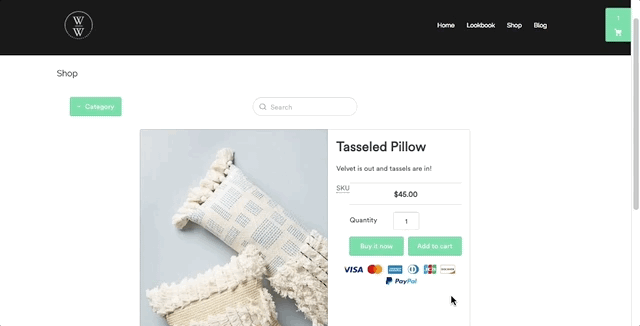 If you are planning to sell on one of the following platforms and integrate an iZettle module, follow the following links:
Getting started
As long as your site or blog contains a text, HTML or source tab, you will be able to add one of our buttons/widgets directly just by copying a bit of code. If the website you are working with is not listed above, follow these steps:
Go to the Buttons & Widgets tab from the main menu within your E-commerce dashboard. This will display the button and widget editor.

Use the options on the left to make your choices about the button or widget's appearance. You can make adjustments to colours, behaviour, size and more in this editor.
Choose how you would like your button/widget to behave and if you would like to take advantage of the shopping cart feature.
When you are happy with the look of your button or widget, copy the code to the right.

Paste the copied code into your site (paste into the text, HTML or source tab). Note: This process looks a bit different on every site.
 
And you're done! A beautiful button or widget is ready for your customers.
Was this article helpful?