Selling on Facebook
There are four ways to sell on Facebook:
---
Using the Shop tab on your Facebook business page, your customers will be able to browse your items from their Facebook account, and then make a purchase through the checkout on your online store.
Simply follow the steps below, upload preview photos for your products and link them to your iZettle store by adding the product URL. This process is a bit more manual, but will allow customers to purchase on their mobile and increase potential sales.
Here are the steps:
Sign into your Facebook account and go to your business page.

Click the Shop tab in the left panel

If you don't see it listed, click your Page Settings > Edit Page. Next, click the Add a Tab button > Add Tab next to the Shop option. You should see the Shop tab on your Page now

If you agree to Facebook Merchant Terms and Policies, check the box, and click Continue.

Facebook is going to ask you how you want to get paid. Choose to 'Check out on your website' at the bottom. Then, click Continue.

Now it's time to add products! Click Add Products.

Choose the currency you want to use. This currency will apply to all your products and can't be changed unless you delete your shop section and create a new one.

Add product images/videos, name, price, description.

Grab the URL from your iZettle POS by going to Items and click the preview option when editing your chosen product and copy the URL.

Click Share and grab the short link to paste on your Facebook page in the Checkout URL field.

Click Save to see the preview.
Your customers will only see your shop section after you add at least one product and it gets reviewed and approved by Facebook. Your products must comply with Facebook policies.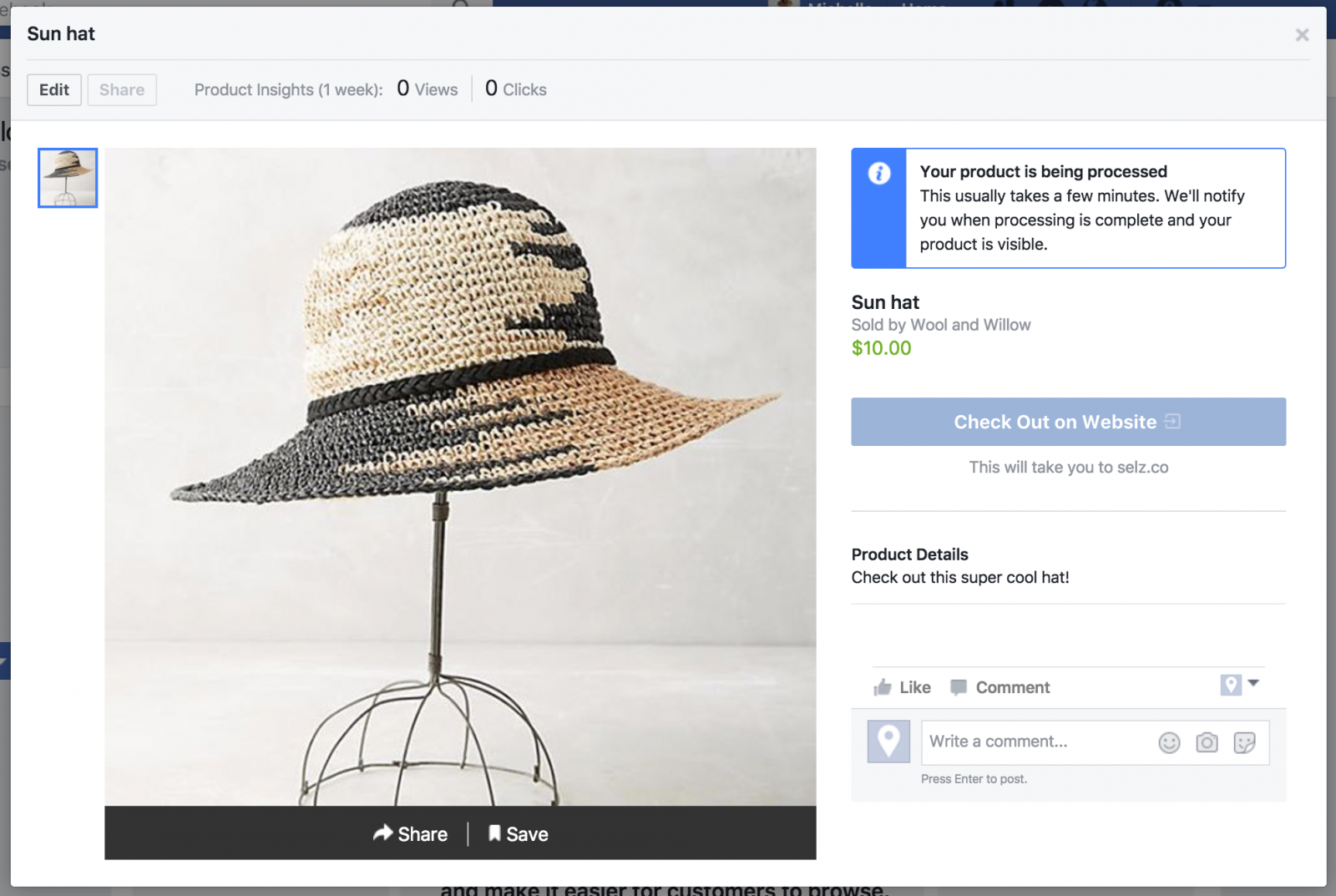 Once approved, your new product will sit nicely as a thumbnail within the 'Shop' tab: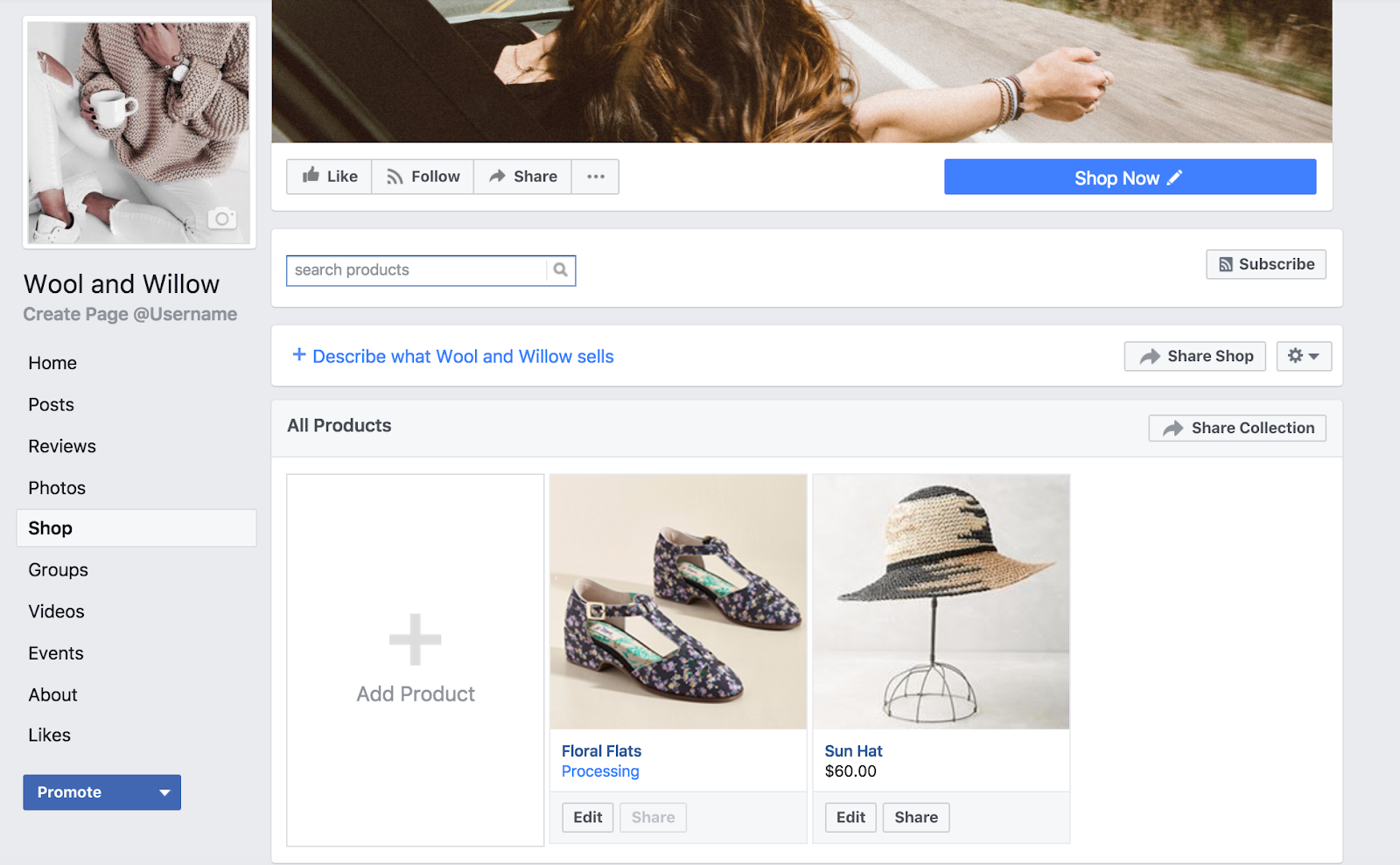 You have the option of sharing your newly added product as a post on your business page, personal page or another page you manage, which is a great way to get the word out!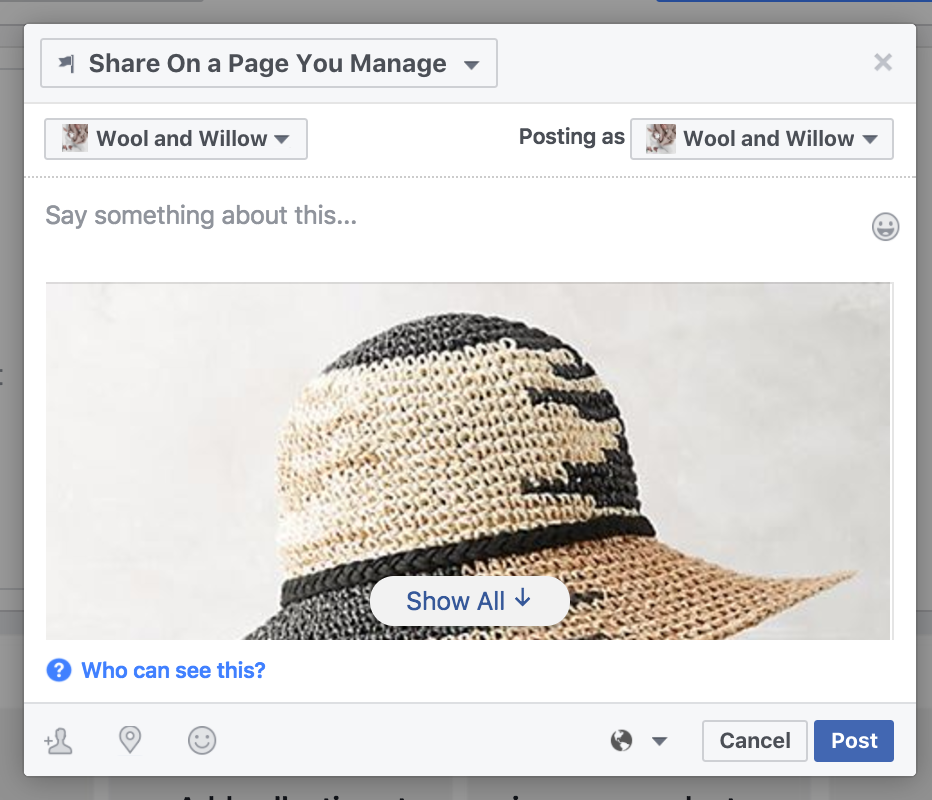 Your customers can now go to your shop tab, see all of your great products, make a selection and check out through your secure site!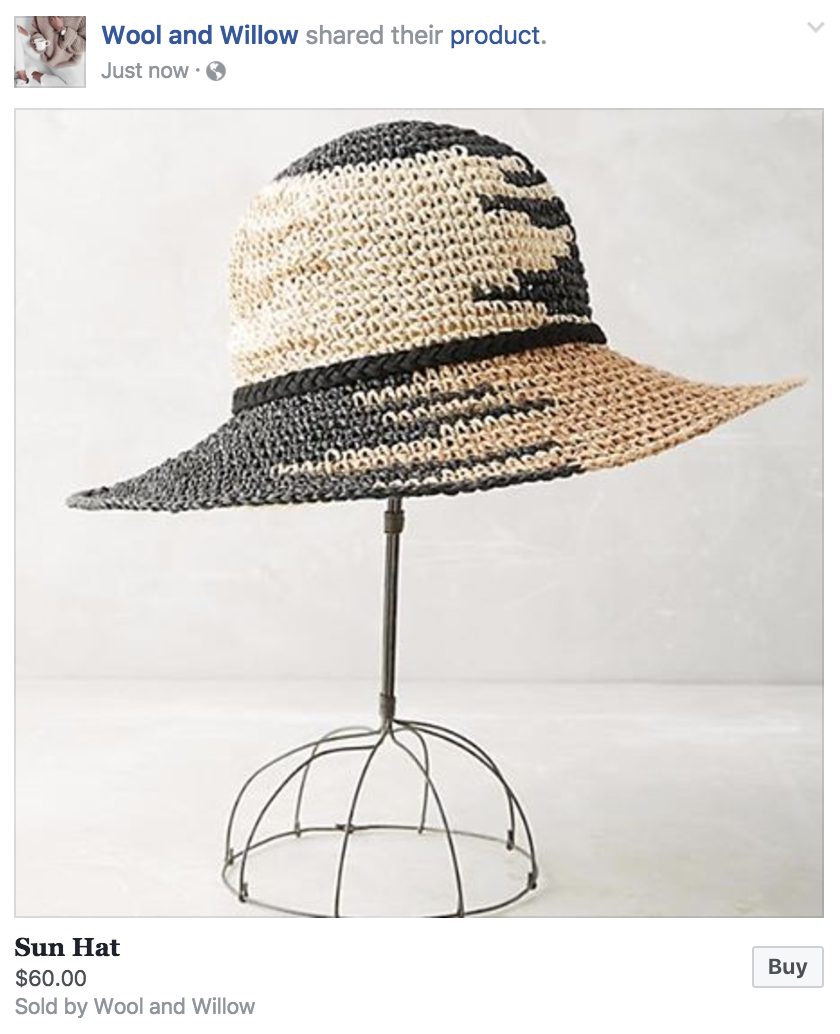 ---
This is a great option if you just want your customers to go to your online store directly.
Click 'Add a button' on your Facebook business page

Add the URL for your iZettle store and you are done!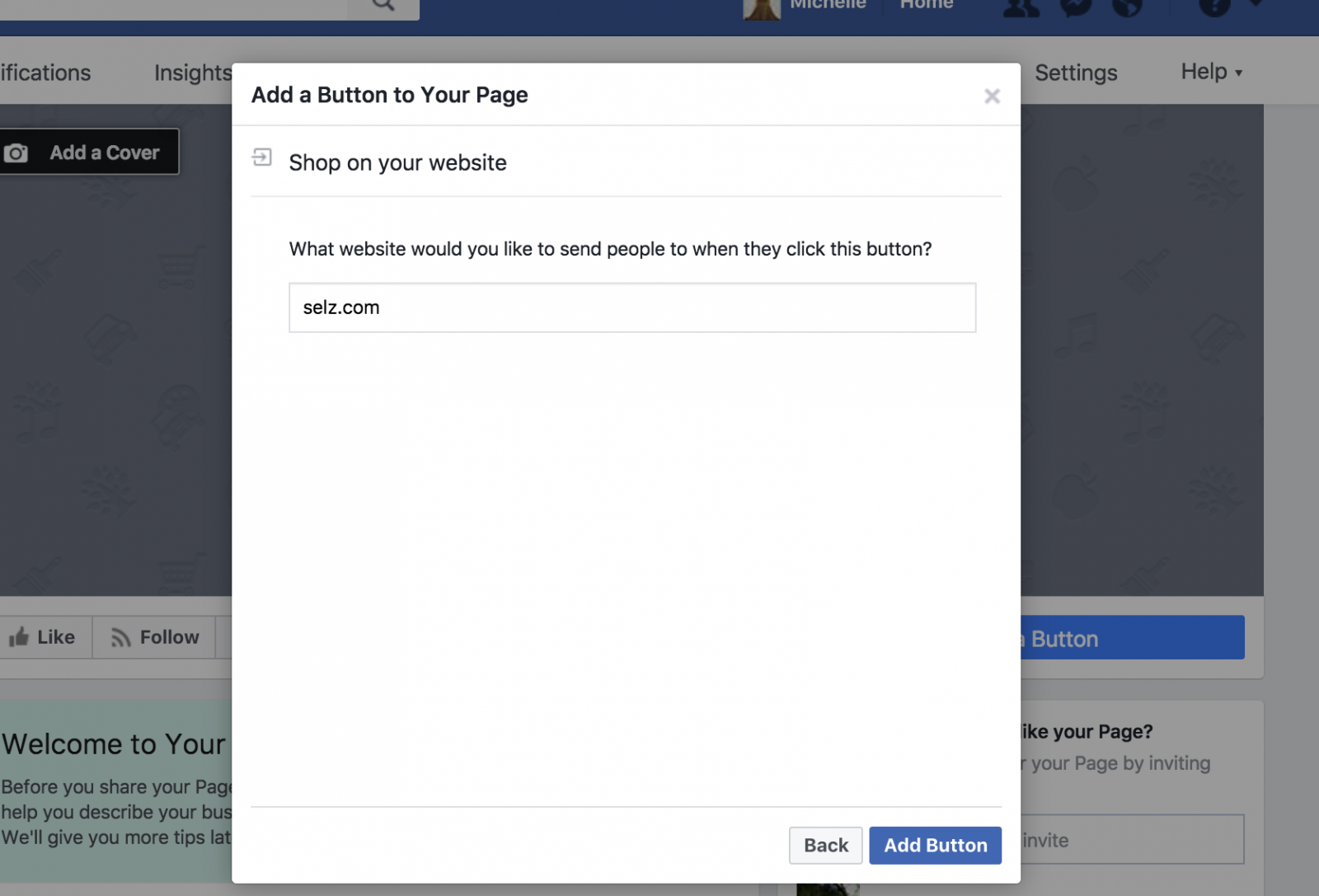 The button will look like this:

---
You can sell on Facebook using a shared post that appears on the timeline. Potential customers would have the option to click on a post and purchase without leaving Facebook.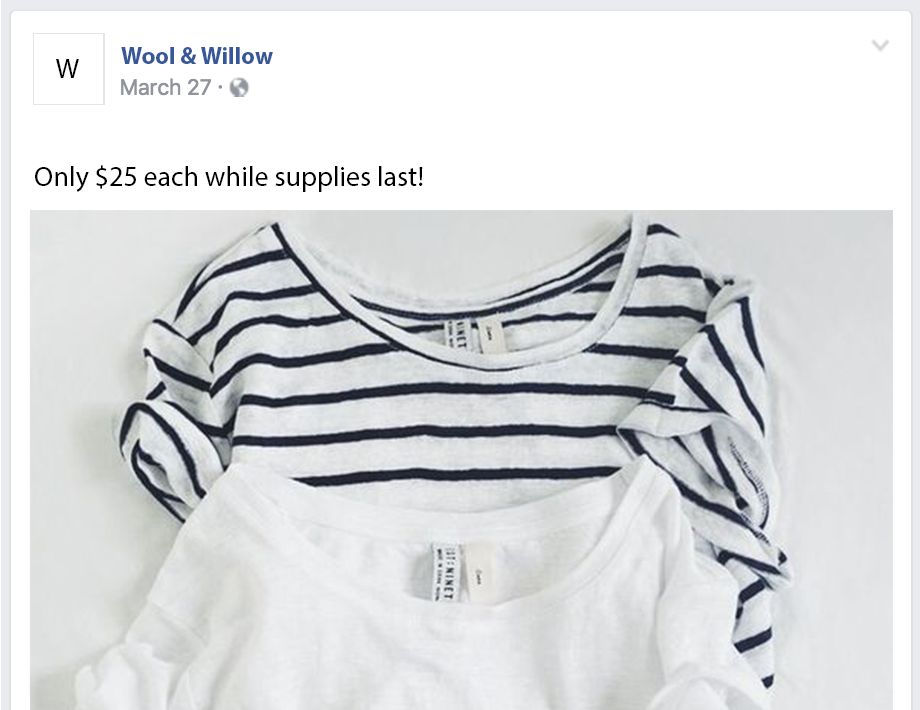 Products can be automatically shared to your Facebook. Set this up by going to  Settings > Sharing. From there, choose Facebook, Twitter, and/or Pinterest, and connect your accounts.
---
The Free Facebook store app makes adding a store to your Facebook page very easy, the downside to using this method is that due to Facebook restrictions, the shop will invisible on mobile devices. Please also note that due to a new Facebook restriction (2018) all business pages must have at least 2,000 followers to use the app.
Using the free Facebook store means you never have to worry about keeping it up to date. It's automatically updated every time you make a change to one of your products in your iZettle account. Managing your inventory couldn't be easier as every sale (even sales through your website) reduces the stock available so that your Facebook store is always up to date.
Here's how to do it:
Sign into your iZettle dashboard

Click on Facebook in your left navigation panel (make sure you are signed into the Facebook account that admins your Facebook business page)

Click on the button that reads Add your store to your page now

On the next page, click Okay

On the Add Page Tab drop-down menu, choose the Facebook business page you want to add your Selz store to and click Add Page Tab.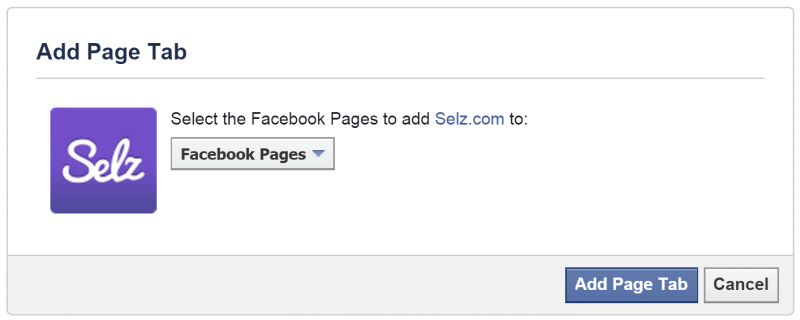 Your Facebook business page is now armed with a 'Store' tab, which can be seen on the left panel of your Facebook business page and on your Facebook business page menu.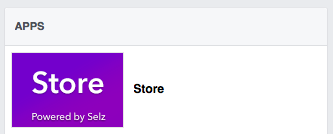 A 'Store' menu item is also available on your Facebook business page menu under the cover image.

Your menu items can always be managed and rearranged by clicking on the More on the right side of your menu and clicking on Manage Tabs. We recommend moving your Selz Store tab next to your 'About' tab as seen above.
6. You are done! Your customers can now purchase directly from Facebook by clicking on either the 'Store' tab on the left panel or from the Store menu item below the cover image.
Need more help?
If you can't find what you're looking for, please get in touch. Our Support team is on duty 9:00 am - 5:00 pm on weekdays.
Call us on 0203 699 9934