How to add terms and conditions to your checkout
Do your research and protect your business and website by creating a terms and conditions page. The exact words that you should include on this page depends on your individual business.
With iZettle e-commerce, you can set up the T&C's page within your shop and then link to it at checkout. You can add an 'I agree to the terms and conditions' checkbox to your checkout page that customers will be required to agree to before they can complete the payment process.
Get Started
From your iZettle e-commerce dashboard, go to Settings > Checkout and then click on the Settings tab

Enable the T&Cs option

Customise the text and click 'Save'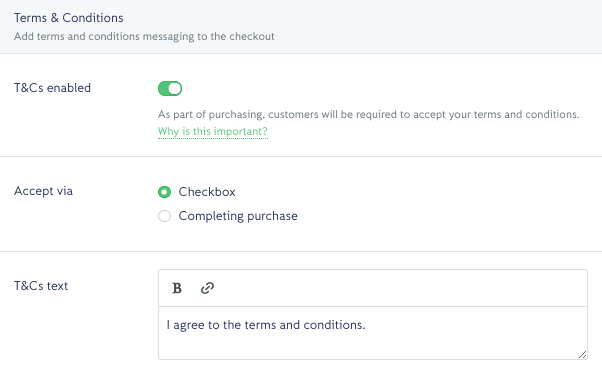 How will my customers agree to the T&C's?
You can choose whether customers choose to accept your terms via two methods:
Checkbox: Customers have to select the 'Terms and Conditions' checkbox before the order can be processed.

Completing purchase: By completing the purchase the customer is accepting the Terms and Conditions.
How can I customise the T&C's?
The statement can be customised as required with the default being "I agree to [your store name]'s terms and conditions. The text can also be formatted with bold and linked pages.

To add a link, simply select the link icon and then enter the details for the link. Once inserted the customer can follow the link to your terms before completing their purchase.
Was this article helpful?