Setting up Google Analytics
Google Analytics is a powerful analytical tool and its insights can be used to find new customers and increase purchasing conversion rates. You can use Google Analytics to start measuring the number of visitors to your iZettle online store, the number of product views, or to see the source of your traffic.
Get started
To start using Google Analytics with iZettle all you need to do is enable E-commerce in Google Analytics and add your Google Analytics ID to your iZettle E-commerce settings. Follow the step-by-step instructions below to see how it works.
How to add Google Analytics to your iZettle online store
Create a new profile account in Google Analytics using your online store's URL. Google Analytics will ask you for the URL when you set up a new profile.

- You can find your store's URL by going to your iZettle E-commerce dashboard and clicking Your online Store > Settings > Domain.
Copy your Tracking ID for your profile you just created in Google Analytics. The code can be found under the 'Tracking Info' tab within Google Analytics and should start "UA…".
Head to your iZettle E-commerce dashboard and click on Settings > Analytics & Ads, paste the tracking code in the Google Analytics field and click Save.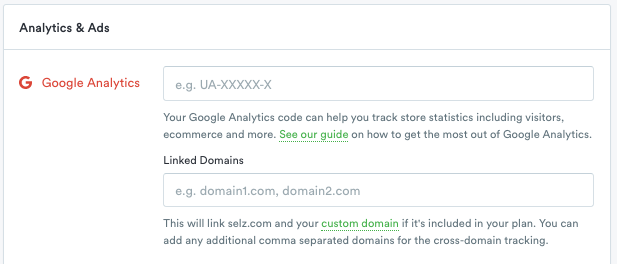 You can now use Google Analytics for your reporting (allow 24 hours for Google to start collecting the data)
Enable e-commerce reports in Google Analytics
To start using the e-commerce reports you first need to enable it in Google Analytics.
Click on Admin from the menu in your Google Analytics account
Select Account, Property, and View
Click 'Ecommerce Settings'
In the E-commerce Setting section, click the toggle so it says 'ON' under Enable Ecommerce
Click 'Save'
Tracking items sold via iZettle E-commerce
When you sell a product from your online store, the following information is passed to your Google Analytics account:
OrderID
Total Price
Currency
Product Name
Unit Price
Shipping
Quantity
Conversion / e-commerce reports in Google Analytics
Your e-commerce reports in Google Analytics cover several things:
Overview – acts like a scorecard showing the overall sales conversion rate, the number of transactions, value sold, average order value and items sold
Product Performance – shows which products are bought, the quantity, and the value
Sales Performance – shows sales by either order or by date
Transactions – shows the price, shipping, and quantity information for each order
Time to purchase – shows the number of days and sessions it takes to purchase
Using the e-commerce reports in Google Analytics means you can get a better understanding of what's driving business growth, and answers questions like:
Which of your products are selling well?
How well do your products convert into sales?
What is your average order value? How many items per order are customers buying? If low, you might benefit from offering quantity discounts, or by offering free shipping.
For more information on using E-commerce reports in Google Analytics
Was this article helpful?