Handling sales tax with iZettle E-commerce
It's easy to collect, record and report your sales taxes. Even collecting your EU VAT is easily sorted with our up-to-date tax settings. You can be set up and ready to go in just a few minutes.
Here's how to ensure you're set up correctly
Go to your iZettle E-commerce dashboard and click on Settings, then Tax.
On the Tax Settings page, enter or update and save your address.
Add the regions and countries where you need to charge tax. We'll add some defaults for you based upon your location.
Click on Save when you're done.
When we pay you, we'll take out the transaction fee and pass the rest, including taxes, onto you.
Any taxes charged on a sale are visible on the order page for each item, and also in the Orders tab: You'll see a column there displaying the taxes.
You can change the date range if you'd just like to see orders for a certain period here.
You'll be able to automatically send your customers a tax invoice after each sale for their records, which is particularly helpful for business-to-business sales.
Reporting taxes
While iZettle helps you collect sales tax, it's up to you as a business owner to pay the applicable taxes, depending on your location.
You can see total tax amounts by going to your Orders tab in your Dashboard, set your date range, and click on Search. Then click on Export and you'll have a CSV of all the numbers you need. You'll see taxes over toward the right of the spreadsheet.
You'll also see that you can sort the numbers according to the region, so for example, if you're reporting to VATMOSS then you'll be able to easily pull out what you need for reporting in Europe.
You can easily import this data into your accounting software, email it to your accountant or grab the numbers manually if you like. For reporting to VATMOSS, you'll need to sort the numbers according to the European region, which you'll find a column for over to the right of your export.
EU VAT Reporting
Our tax feature helps with your EU VAT reporting. You can:
Identify the customer location using a number of data points
Apply the correct VAT rate across the 28 EU states
Collect and store the evidence to verify the customer's location
Export your order list with the EU VAT liability for each sale for quarterly EU MOSS returns
Note: UK sellers do not pay VAT on UK Sales
There is some good news. The HMRC have recently said that UK-based sellers will not need to pay VAT on UK sales and just pay VAT on sales to other EU countries if they are below the registration threshold VAT. To do this, set the UK rate to 0% then it'll override the default EU rate. UK customers will then be charged your tax rate of 0%.
The HMRC additional guidance on VAT MOSS published 10 Dec 2014
Identifying the customer's location during the checkout process
We've kept the checkout process as streamlined as possible so you don't lose out on any sales. However, we have made some changes to accommodate the new EU VAT rules.
The new EU rules changes require businesses to capture and record a minimum of two non-contradictory pieces of evidence to identify the place where the consumer is established (their permanent address or normally resides).
Turning on EU VAT Reporting means that customers purchasing a product will now be asked for their billing address. The system will also automatically capture the IP address and the location of the credit card issuer. It will also apply the relevant VAT rate to estimate the VAT liable on that sale.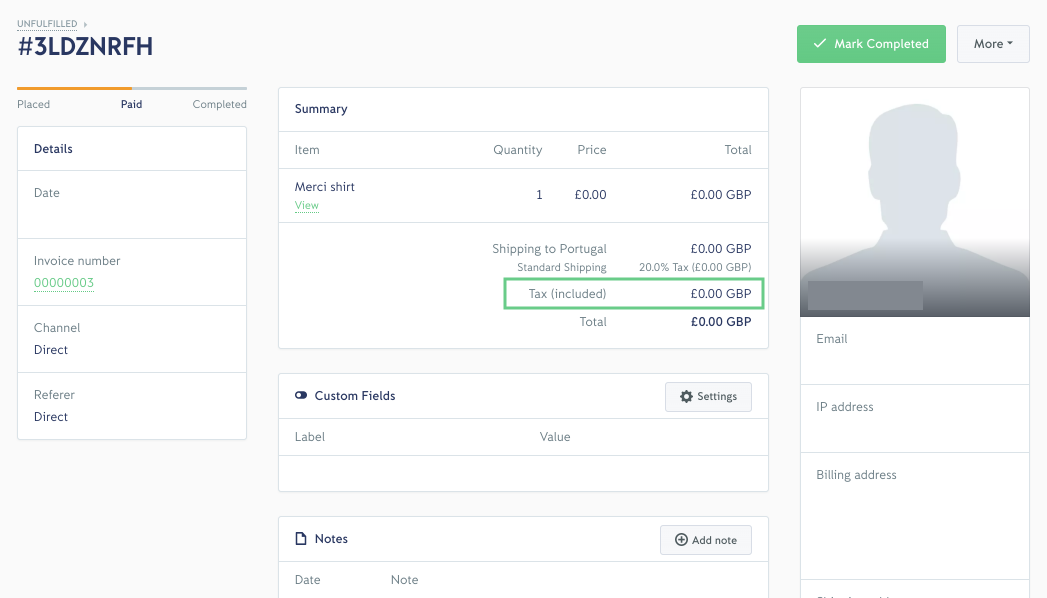 The country evidence for a sale will be recorded and stored for 10 years in accordance with the EU VAT rules.
Exporting Orders including EU VAT liability
Any exports of your order list now include additional columns of data relating to the EU VAT liability for each sale. We don't submit your returns and pay your tax, but this export can be used in preparing for submitting your quarterly VAT returns using VAT MOSS.

A quick refresher about VAT MOSS
To 'help' lessen the admin the EU have implemented an online portal called Mini One-Stop Shop (MOSS) scheme as an alternative to registering with each of the EU member states separately. If based in the EU, you register with your country's MOSS online service. If outside of the EU you can register for the UK's non-union VAT MOSS online service.
You submit your quarterly returns to the MOSS, and this takes care of sending what is owed to the appropriate countries.
Additional information on EU VAT rule changes
This is the comprehensive explanatory notes from the EU commission on the EU VAT changes. It's a 92 page PDF. Grab yourself a coffee first as it's very dry and isn't as good as Harry Potter.
Was this article helpful?