Customising your shopping cart
The shopping cart is a simple embed, which you can add to any and all pages on your existing website. The cart will be accessible to shoppers, sliding from the right of their screen with a simple click. This helps customers keep track of items as they shop, leading to increased conversions, and ultimately saving you time and money.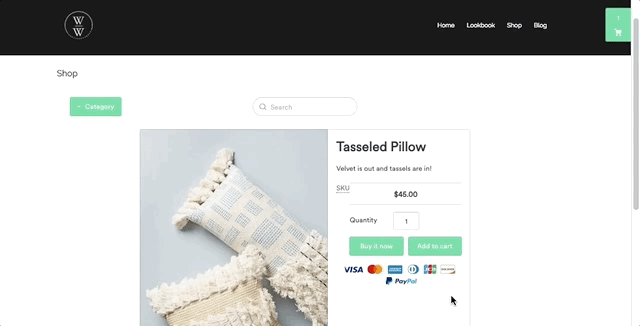 The shopping cart will automatically show on your existing site wherever you have embedded your store, widgets or buy buttons. You also have the option to add the shopping cart individually to any page on your website.
Adding the shopping cart code to your site is simple:
Navigate to your Buttons & Widgets settings from your E-commerce dashboard
Select 'Cart'
Update the cart's appearance by clicking 'Colours'
Make changes to the way the cart functions by clicking 'Behaviour'
Adjust the store logo, name and display by clicking 'Settings' and click 'Save'
Copy the HTML code to the right​
Paste the HTML code into the page or pages of your site where you want it.
You can learn more about embeddable buttons and widgets here.
How do I disable the shopping cart feature?
You can turn off the shopping cart slider by navigating to Settings > Checkout > Settings and turn off the shopping cart and don't forget to save your changes.


Now when you generate the widget or button code, the shopping cart will be hidden.
Was this article helpful?