Troubleshooting iZettle Reader 2
Getting started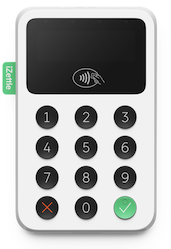 How do I start using the iZettle Reader 2?
Please see our quick start guide.
Charging
Charging in the Dock 2

My reader is in the dock but it's not charging. 
Please make sure that the iZettle Dock 2 is properly connected to a USB power adapter with the cable provided, both under the dock and in the USB power adaptor.
Please be aware that the iZettle Reader 2 can only be used with the iZettle
Dock 2
and that the original iZettle Reader can only be used with the original iZettle Dock. If it still doesn't work, make sure your cable doesn't have any damage or try another cable. 
Dirt can accumulate over time and prevent a charge. Gently clean the 5 small golden circles on the back of the Reader 2 or on the Dock 2 with a soft brush or cloth and alcohol. Do not use anything metallic to avoid damaging the plates.
A light indicator next to the charging port will light up to indicate the Reader 2 is charging. Red = charging, green = charge complete.
Charging via the USB cable
My reader is connected via a USB cable but it's not charging. 
The iZettle Reader 2 can be charged by connecting it via a USB cable to a USB power adaptor. Make sure your USB cable is properly connected to the Reader 2 and to the USB power adaptor or computer.
An indicator next to the Reader's charging port will light to show that the Reader is charging. Red = charging, green = charge complete.
Can I charge my iZettle Reader 2 in a Dock 1?
No, iZettle Reader 2 is only compatible with the 
Dock 2
.
Power on/off
My reader isn't turning on. What can I do?
Please make sure it is charged. Connect it to a charger or a Dock 2 and try again after a few minutes. If your issue is not resolved, please contact our support team for help.

My reader is showing a strange message or has frozen. What can I do?
If your issue is not resolved, please contact our support team for help.
Pairing
I just purchased a new iZettle Reader 2, how do I pair it with my phone or tablet?
Refer to the quick start guide that you receive together with your Reader 2.

I have paired the reader to my device but it doesn't connect. What should I do?
Make sure that the device has Bluetooth on and that the Reader is located within range (<15m). In the iZettle app, go to Settings / Card Readers to see the connection status or try to connect again.

Can I pair a Reader 2 to more than one device?
It is ok to pair your Reader 2 with more than one device but you cannot use them at the same time. Attempting to use several devices along with your iZettle app at the same time may cause them to malfunction. 
Taking payments
My Reader 2 is on but I'm having issues taking payments.
Make sure the card reader is properly connected to your device by navigating to Settings / Card Readers in the iZettle App. If you can't see it there, you may need to reconnect the reader. 

Also, make sure your Reader and app software are up to date. See below.
Software update
Make sure your iZettle app and the card reader are always up to date. 

To update the app, please go to the Apple Store or Google Play Store from your device.

To update the Reader software in the app go to Settings > Card Readers, choose the reader you want to update in the list, and then tap "Update Card reader".
Sleep mode/energy saving mode
My Reader 2 'sort of' turns off after some minutes without use when it runs on battery
This is completely normal and nothing to worry about. The Reader 2 is designed to go into sleep mode to save battery. It will wake up when you take a payment, you can also press the power button or use the app to wake it.
Care
Do I need to take any special care with my Reader 2?
Treat your reader gently! The iZettle card reader has an internal protection mechanism which is very sensitive. Any strong impact or drop from a significant height can cause a "Reader Damaged" message.

I will not be using my reader for a few months. Is there anything I should consider?
If you are a seasonal user and you will not be using your Reader 2 for the next few months (3+ months), we strongly recommend that you charge it before storing it.

I haven't used my Reader 2 for a for a few months and now it shows a "Reader Damaged" message. 
Please contact customer support for more info. 
General
My reader shows the message "Reader Damaged". What can I do?
"Reader Damaged" means that something has triggered the internal alarm system. Please contact customer support for further advice.
Need more help?
If you can't find what you're looking for, please get in touch. Our Support team is on duty 9:00 am - 5:00 pm on weekdays.
Call us on: 0203 699 9934