Start, run and grow your business
A free package of powerful tools that helps you sell smarter — and sell more.
Start selling smarter
The free iZettle app is the no-hassle point of sale (POS) tool that empowers you to sell smarter—wherever and whenever. From making the sale with a beautiful and easy-to-use product library to processing payments and staying in touch with your customers, the iZettle app makes it simple to sell, sell, sell.
Get organised
Your product library is the handsomely organised hub of your app. The images make ringing up sales quick and intuitive, and help the app collect valuable data you can use later to measure the health of your business.
Make the sale
Use our mobile POS app to process each and every sale you make. Easily add products from your library to the cart, check out with one click, and take cash, credit card and contactless payments - better yet if it's with an iZettle reader.
Wrap it up with a bow
Finish up a sale by offering customers the convenience of text or email receipts. Or if you prefer the old-school way, you can customise printable receipts with your business' logo and contact details.
Create great relationships
A successful business is one your customers love and keep returning to. So stay in touch and create some great relationships. Collect customer email addresses at the end of a sale and craft campaigns that keep them coming back.
Ensure every day runs smoothly
Every day you're open for business is an opportunity to do more of what you love. Let the iZettle point of sale app help your day-to-day business run smoothly, and keep you well informed about what's happening behind the register.
Grow your business big and strong
The portal at my.izettle.com offers more robust features that help you grow your business. Straightforward tools track every sale and product sold, ensuring you have all the data you need to make informed decisions and keep your business healthy.
Follow and analyze your sales
Great reports help you grow your business by tracking every sale, every product sold, and your staff's performance. With easy-to-read sales reports, you can see what's working and what isn't - without being overwhelmed by data.
All the features, all for free
Get a quick overview of all the robust and powerful features we offer for free in our point of sale app.
Partner Apps
Make bookkeeping an easier and less stressful task with Xero, straightforward accounting software for your small business. Your sales and payment data is automatically sent to Xero, saving you hours of manual work and giving you better control over your business.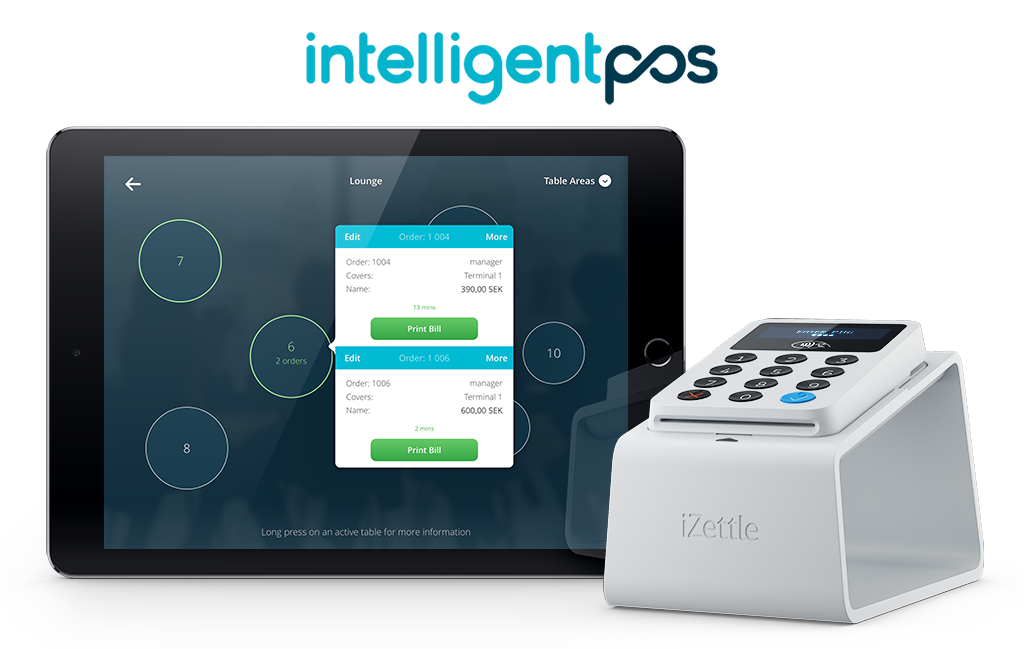 Take it to the next level with intelligentpos
We know that bigger businesses have bigger needs. That's why intelligentpos is joining the iZettle family to offer bigger retail or hospitality businesses a sophisticated, full-featured EPOS that helps you maintain control - and grow.
Our friends at intelligentpos started out as merchants too, so they understand which features you truly need. Open tabs and table management help your busy bar or restaurant sell more and offer a higher level of service. And for those in retail, there's stock management so you can keep track of inventory and loyalty schemes that let you reward your best customers.
Together, we're with you every step of the way.

We also support receipt printers, cash drawers and barcode scanners that can empower you to take payments in the way that works best for your business.
We're here to help
We know that starting a business and taking payments can raise a lot of questions. Well, we're here to help with detailed FAQs that explain our service, and a Customer Service department that can answer your unique questions over the phone or via email.