Buying a card reader
You can order a card reader on signup, or at any time later at izettle.com.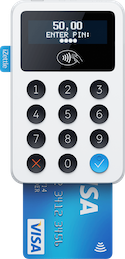 Skaff deg kortleser  

The iZettle Reader costs 799 NOK excl. VAT. The delivery time is 1-2 working days. 
Need more help?
If you can't find what you're looking for, please get in touch. Our support team is available weekdays 9:00 am - 5:00 pm.
Call us on: 21 95 92 66