Collect customer email addresses
Stay in touch and create a following with Customers.
Creating relationships with your customers is one of the best ways to grow your business. Customers is a free and easy way to stay in touch. Simply add their email address after making a sale, and easily export your list on the Customers tab on my.izettle.com. Then use an email marketing service to send email to your Customers (we like MailChimp).
Who can enable Customers
To enable Customers, you must have a business account with iZettle. If you have added Staff Accounts for your staff, they will also be able to sign customers up, but they can't enable the Customers feature.
Samla kunder
How to enable Customers
Go to my.izettle.com/customers
Accept the terms and conditions
Click to enable the feature

Ask customers to sign up



With your customer's permission, their email details can be shared with you. After you have completed a sale, ask your customer if they would like to receive email newsletters from you. If they agree, make sure their email address has been added and switch on "Add customer".
Next, your customer will receive an email asking them to confirm their email address. When they click "Confirm email", their address will be added to your Customer list. You can see your Customer list and the number of outstanding invites on the Customers tab of my.izettle.com.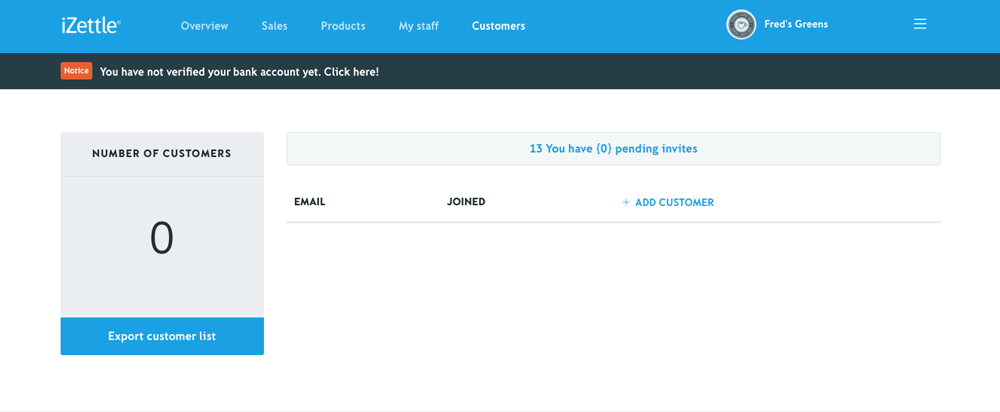 Exporting your customer list
At any time, you can export your customer list by clicking "Export customer list". Only customers who have confirmed their email address can be viewed and exported (not pending invites). The email address and the date it was added are included in the export. Import your list into an email marketing tool (such as MailChimp) to send email to your customers.
Data privacy
Remember that you are solely responsible for complying with applicable rules and regulations when using the Member Register Service, including e.g. marketing and data protection laws.
When signing up for the Member Register Service, you choose to use the Member Register Privacy Policy that we produce for you and populate with your contact details. This Privacy Policy explains how you will process your customers' personal data and their rights. It will be included in the email sent to your customers after you add them to your customer list. It is important that you read and understand the content of the Privacy Policy, as both your customers and iZettle expect you to act in accordance with it.
Need more help?
If you can't find what you're looking for, please get in touch. Our support team is available weekdays 9:00 am - 5:00 pm.
Call us on: 21 95 92 66