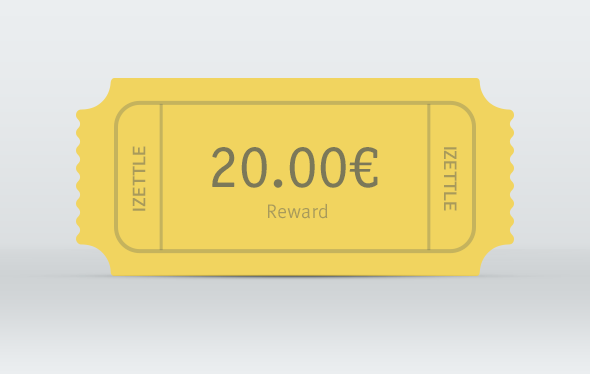 This is what's happening: for every friend that becomes an active iZettle business through your recommendation – we'll give you the equivalent of €20 as a thank you! We'll also give your friend a welcome present in the form of a voucher toward free transactions.
How it works
1. You share your recommendation link on Facebook, Twitter or via e-mail.
2. Your friend signs up and receive their voucher.
3. They start accepting payments and you get your money!
When do you get the money?
There are a few very simple things to keep in mind. Your friend needs to click on the link that you share and sign up for a business account to get their voucher. They then need to take at least 3 card payments using a card reader within 30 days of signing up. As soon as we can see that this has happened, we'll send you an e-mail and deposit the money to your bank account. Easy peasy. 

Get started with your recommendations by signing in to your portal or the iZettle app. Thanks again for being an iZettler and for spreading the word about us to your friends. We're very excited to reward you for it!
Recommend iZettle is available in Sweden, Norway, Denmark, Finland, The United Kingdom, Germany and Spain, and coming soon to more countries.