What is a chip and PIN machine?
Chip and PIN machines, sometimes referred to as PDQ machines, have been used in the UK for almost twenty years. They protect customers from card fraud by using a small computer chip and your personal identification number to accept card payments.
Chip and PIN machines work by first reading the information on a credit or debit card. Once a customer has entered their card into the machine, a request for authorisation is sent to the card issuer. If the card is approved, the customer enters their PIN and the transaction can be completed. After this, the credit card processor will request money from the card issuer and then deposit it into the merchant account.
The unique chip and PIN authorisation process can be performed whether your terminal is online or offline — making it ideal for cafés and restaurants who want to accept payments away from their cash register.
The iZettle chip and PIN card machine
The iZettle Reader is a mobile chip and PIN machine that also accepts swipe and sign, contactless, Apple, Android and mobile pay. It has an all-day battery life and processes payments 25% faster than other mobile card readers on the market.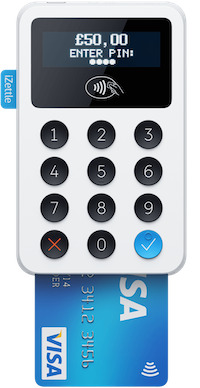 Pricing
Card payment transaction fee: 1.75%.
Sign up now and purchase the iZettle chip and PIN machine for only £291.