How to buy our award-winning card reader
Order your card reader when signing up for iZettle, or any time you like when logging into my.izettle.com.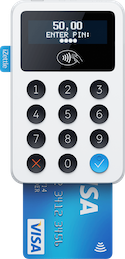 Accept it all – never miss a sale again
The iZettle Reader lets you take payments, no matter your customer's preferred method. Swipe (magstripe), chip (insert), and tap (contactless) are all possible, with all major credit cards. You can also accept Samsung Pay, Apple Pay and Android Pay.
A safer way to do business
The iZettle Reader is designed to be tamper proof, with transaction protection and payment data encryption. Developed inhouse by design, tech and security experts, this card reader fulfils the computer and network security industry's highest standards and requirements. It's EMV (Europay, MasterCard and Visa) approved, and complies with the Payment Card Industry Data Security Standard (PCI DSS).
Deposits within days
We deposit the money you earn with your iZettle Reader within 1–2 business days, no matter which cards you process. If you'd like to learn more about deposits, visit this support page.   
Faster, longer-lasting trade
Feel confident taking payments thanks to all-day power – equivalent to eight hours' battery life, or 100+ transactions per charge.

Cable-free, award-winning design
The iZettle Reader starts up in three seconds, and connects seamlessly to the iZettle app via Bluetooth.

Delivery time
Delivery time for your new iZettle Reader is 1–2 working days. Discover more about how to take card payments with your Reader here.
 
You can also buy the iZettle Reader at our

retailer

. 

Sign up for your iZettle Reader

Already have an iZettle account? Log in to get your iZettle Reader here. You can also buy the iZettle Reader from our retailer.
Need more help?
If you can't find what you're looking for, please get in touch. Our Support team is on duty 9:00 am - 5:00 pm on weekdays.
Call us on 0203 699 9934