Managing online inventory
1. Adapting your products (in the Point-of-Sale) for online sale
If you've been selling products face-to-face via your POS app, the items in your inventory don't have any descriptions yet. But if you want them to sell well online, you need to adapt them with some snappy text and beautiful photos. To do this, go to the Products tab in the left-hand navigation bar of your E-commerce dashboard.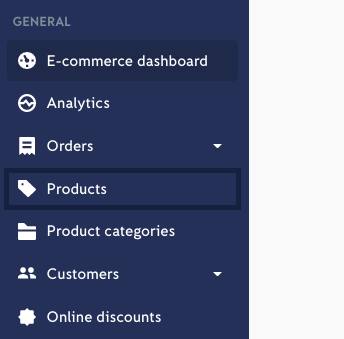 To the right of each product you'll see the word Edit, click this link and you'll be able to optimise every product to your heart's content.

The best way to market your products online is by taking clear, brightly-lit pictures against an uncluttered background. The number of sales you make will be directly correlated to the quality of your photos you take, so make sure your products look good!
When you write descriptions for each product try to include short but positive explanations of what the product is or what it does. Choose a few words that help your customers understand the unique selling points of each item. For example, instead of writing "White T-shirt" you could say "White T-shirt in breathable cotton with flattering V-neck."
2. Add a new product
From my.izettle.com, click Products > Add product.

3. Pricing
Give your product a name, a detailed description, and a price. If you are selling a service or physical product with a custom unit (ex. £25/m or £15/kg) you can set that up with the custom units feature.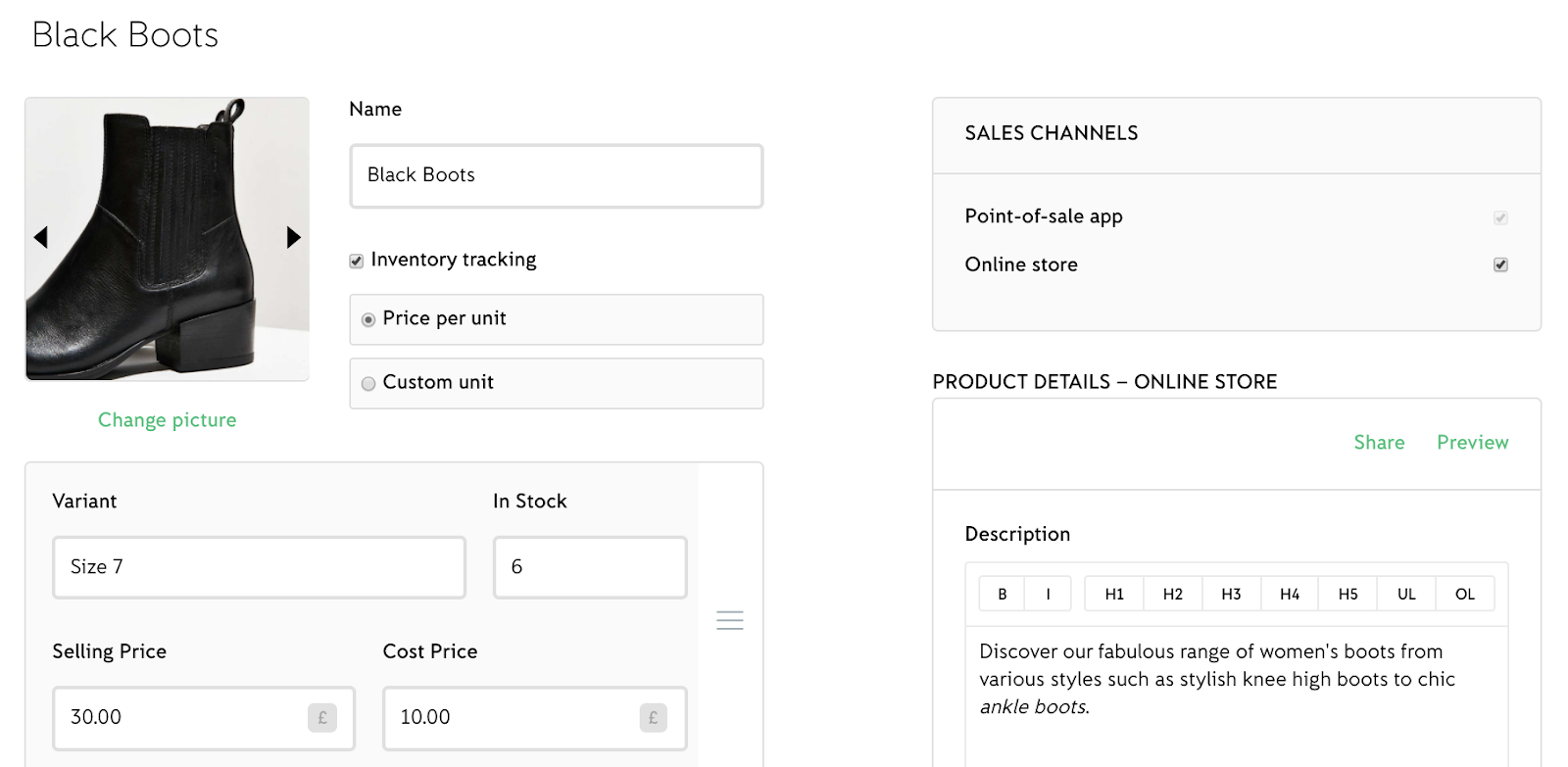 Tip: Make sure your product description is clear and easy for customers to understand. Describe the benefits and uses of the product. Add an image so your potential customers have a clear idea of what you're selling. You can also embed straight from YouTube or Vimeo simply by pasting a link.
4. Variants
Take a look at the Variants section. Here you can set up product variants like colours, sizes, and type. Each variation can have its own price and barcode.

5. Shipping
Be sure to add your product weight in the shipping section. If you would like to offer free shipping go ahead and tick the box next to "Free shipping."

6. SEO
Help customers find your product more easily when they search online with SEO (Search Engine Optimisation). Add a page title, make sure it's clear and the sort of thing a customer would search for if they want to buy a product like yours.
Then add a meta description. A meta description is a short and concise description of the product. Try to include keywords that your customers might search for, so instead of writing "T-shirt" try "Short-sleeved cotton T-shirt".
Finally, add custom URL for your product. Try to get the name of the product in your URL if you want customers to find it more easily.
Hit save to finish making your changes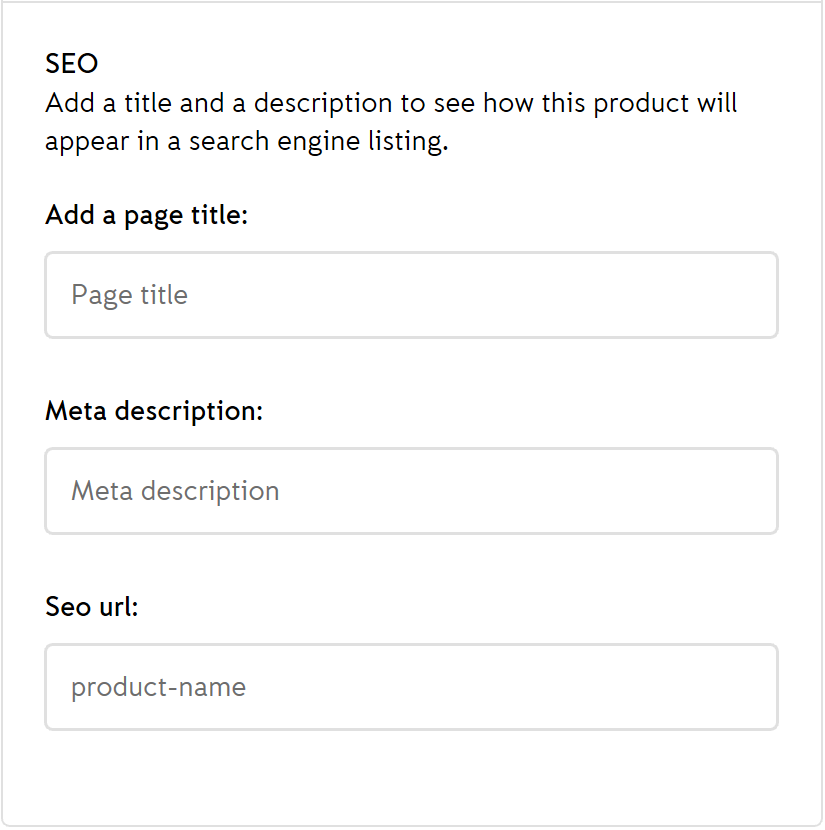 7. Categorising your online products

 
We have a handy way of sorting your products with categories and subcategories that will make it easier for customers to navigate your site.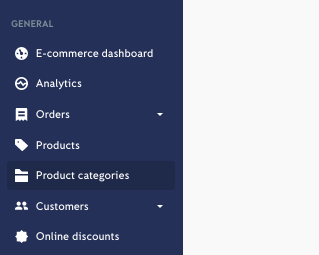 Click 'product categories' in the left panel to get started. It is important to note here that your existing folders will not be synced to any of your online products.

We can click new category and give it a name, like on sale, new products, clothing or books. Now you can organise your items by adding them to the different categories, you can add a cover photo for each category as well.
Then select which products to add into each category by ticking the box next to the product name.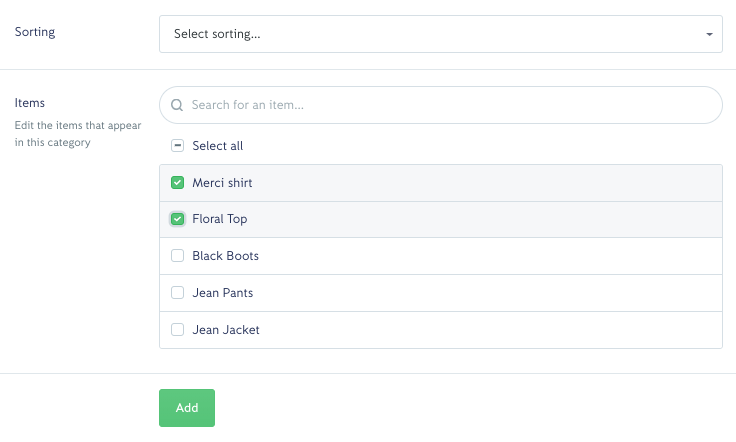 Sub categories can also be added. So if you have Clothing as the parent category, the subcategories could be something like Women's, Men's and Children's.
You can add Categories to the top navigation on your store to create a useful menu.
Need more help?
If you can't find what you're looking for, please get in touch. Our Support team is on duty 9:00 am - 5:00 pm on weekdays.
Call us on: 0203 699 9934