Translating your theme with the language editor
The language editor is a way to translate text across your online store from English to a language of your choice. This can include anything from labels on your products to error messages. Many pieces of text appear on multiple pages of your site (i.e. menus). When they are updated in the language editor the changes carry through anywhere the specific piece of text appears on your site.
The language editor isn't exclusively for translation- the tool allows you to customize text (no matter the language) wherever it appears, i.e. "sale" can be changed to "discount."

Get Started
From your E-commerce dashboard click on Your online store > Installed Themes

Make sure that your published theme is up to date. If there is an update available click 'Update' before continuing to the next step.

Click on the drop-down arrow of your active theme and select 'Edit Languages'
Customise the translations
Now within the Language Editor, you can make changes to the labels and text used throughout your online store. Please note that any changes you make here are specific to your published theme.

You can change your active language here or add a new language by clicking on 'Add language' but you can only have one active language in your store at a time.
Every theme comes loaded with four translated languages:
English

English (UK)

Swedish

Danish
But you are not limited to the translations above and are able to choose any active language from our list by clicking 'Add language.' Once you have added a language you can get to work on translating the copy. We provide you with the default translation in English right below each text field.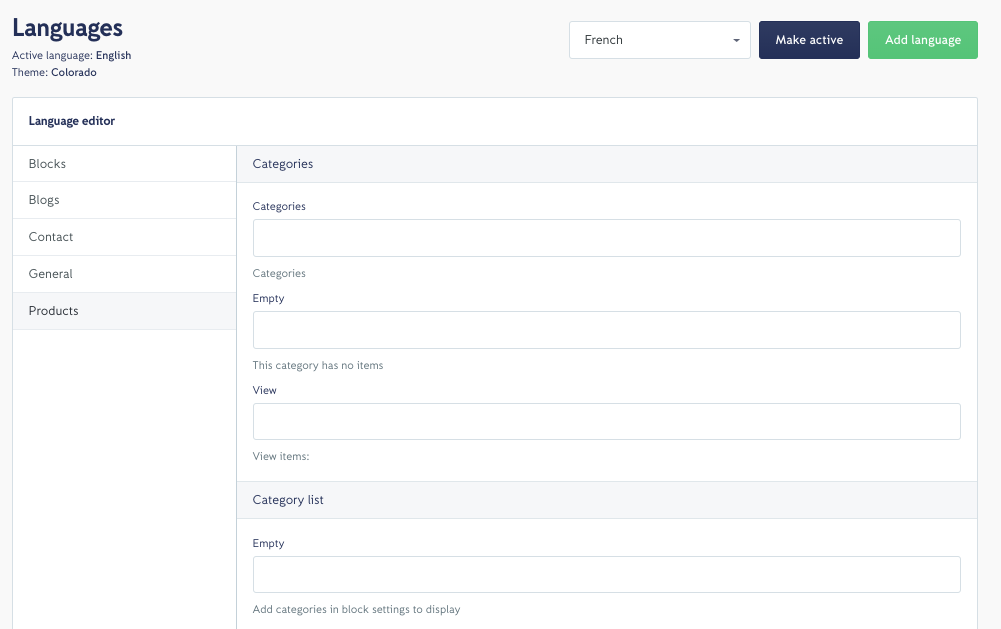 To see your changes, click 'Save' and head to your online store.
The active language you set in the language editor will also affect the way your currency is displayed to your buyers.
Please note that some of these labels will be used in the Store Builder and will not be available for your customers to view. Also, you won't be able to make changes to brand specific labels like 'Tweet' for Twitter or 'Pin' for Pinterest.
Was this article helpful?