What is iZettle E-Commerce
iZettle E-commerce allows you to take your business online, so that you can reach new customers, sell more and build your brand. It's simple to set up and easy to use, so you can sell anywhere, 24 hours a day. You'll be able to manage all your sales and inventory from your iZettle account, whether you've made them online or in store, and you can accept secure payments from all major credit cards as well as PayPal. Whether you are just starting out or you've been selling for a while, iZettle provides a simple but powerful set of tools for marketing and selling your products online.

What are the different ways to sell online?
Sell from an existing website or blog
iZettle E-commerce makes it easy to sell your products directly from your existing website or blog. Embed buy-buttons, product widgets or even an entire shop into your website or blog and start making sales. Simply click on the Buttons & Widgets tab in the menu on your dashboard to begin.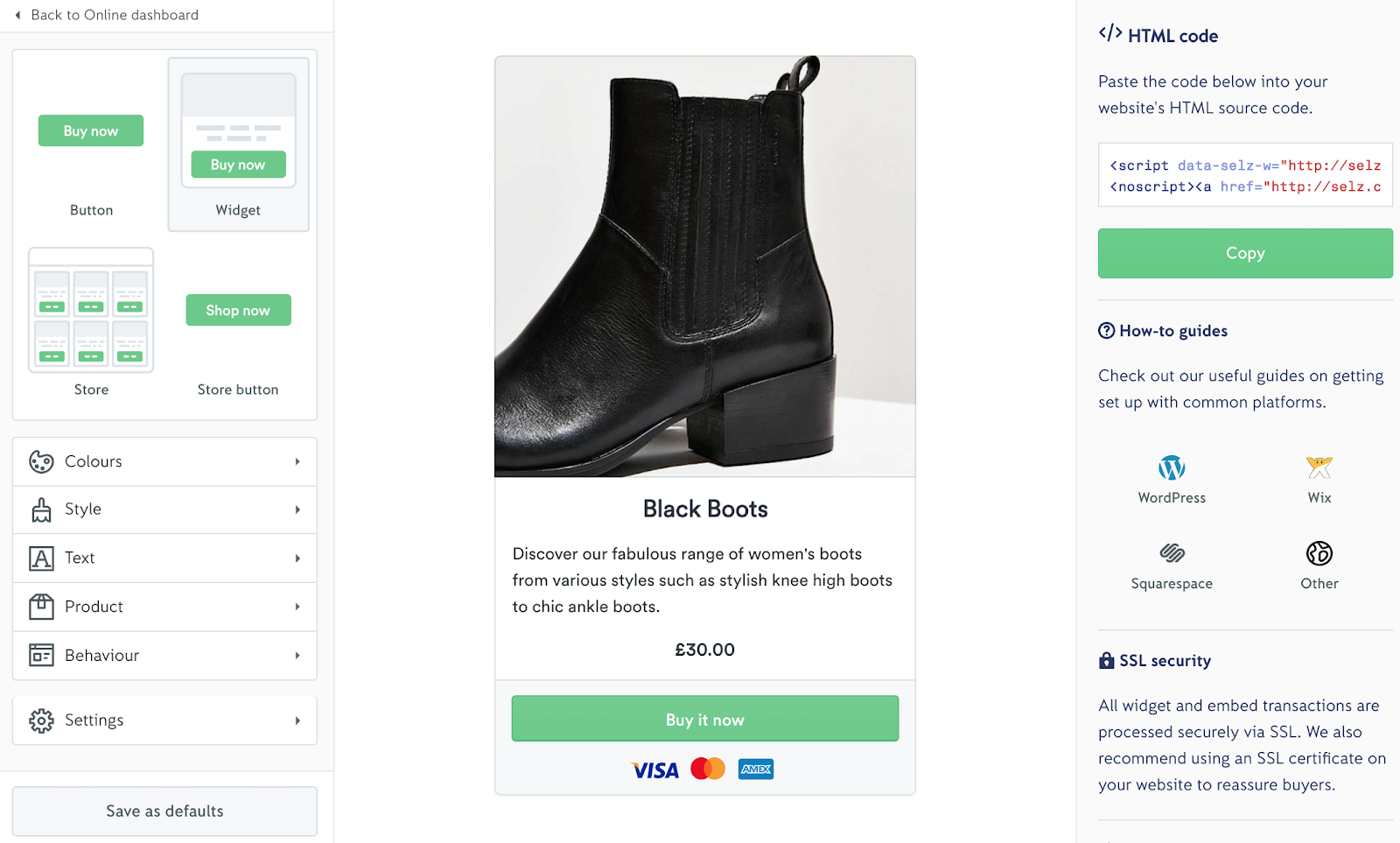 Read more about selling on an existing site here.
WordPress plugin
If you use WordPress to run your website, we have a special plugin that allows you to add a webshop or individual products to it. It's easy to use and requires no coding. Read more about the WordPress plugin here.
Create your own website
If you don't have a website yet, no problem! iZettle E-commerce gives you all the tools you need to create a beautiful and effective online store to match your brand.
Use one of our professional pre-designed themes to create the look of your store, and use the store builder to add your preferred sections. Your store is also designed to be fully responsive so that it will look great on desktop, mobile, and tablet.
Use your existing domain name, purchase a new one for your business or keep the custom selz.comsubdomain that is included. Get your store to look just the way you want using our simple store builder or get under the hood of your site with fully editable HTML and CSS.

Learn more about customising your store here.
Sell on social media
Sell on Instagram, Twitter, and Facebook with ease. Simply copy and paste your product links to your social profiles or connect them to your account for easy sharing.
Every iZettle E-commerce account comes with a free Facebook store. Easily install the Facebook store app on your Facebook business page and you can start selling directly to your customers on social. They won't even need to leave Facebook!
Learn more about selling on Facebook here.
What can I sell and what can't I sell?
Use iZettle E-commerce to sell physical items like clothing, art, home goods, health and beauty products or electronics. But take note that you will not be allowed to accept online card payments through iZettle E-commerce for some pharmaceutical products, e-cigarettes and some food items. You may still be able to sell online with PayPal payments, which have slightly different rules.
How do I start using iZettle E-commerce?
Read our "Get started" article here.
To start selling online, activate the E-commerce feature from the E-commerce page at my.izettle.com.
A quick sneak peek
If you'd like to see how you can get started with iZettle E-commerce, take a look at our step-by-step video and see how it all works!
Was this article helpful?