Set up payments for iZettle E-commerce
In order to accept payments online using your iZettle E-commerce account, we use two payment providers: iZettle and PayPal. When you use iZettle as a payment provider, your customers can pay using all major credit and debit cards. If you choose to use PayPal as well, your customers will be able to pay using PayPal payments.
Read more about taking PayPal payments here.
How to choose your payment provider
You choose which payment provider you want to use (iZettle, PayPal or both) in your E-commerce dashboard under Settings > Check out. If you want to use a payment provider, you may have to first apply and be approved to take payments, and you'll be able to see the status of your application here too.
If you have previously been approved to accept card payments with iZettle in your (for example if you already run a physical business and use our card reader), you may not have to apply again.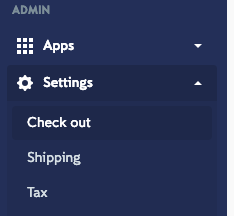 Sell online using iZettle as a provider
If you wish to accept card payments using iZettle, you will need to submit information to us as part of our verification procedure. These procedures are in place to ensure iZettle is a safe place for both buyers and sellers.
Our verification procedure has two steps:
Identity verification
Account review
1. Identity verification
In order to accept card payments, you will have to fill in an identity verification form. This form may be presented to you in different stages of your journey with iZettle, but most likely when you initially create your iZettle account. Fill in your details, then read and accept our Terms & Conditions. If you have problems filling in the identity verification form, please read about common problems here.
More information on privacy, how we collect and store your information can be found in our Privacy Policy.
2. Account review
To ensure iZettle is a safe place to do business, and to deter fraud, we review seller accounts and make sure they comply with our Terms and Conditions. In order to help us review your account, please make sure you do the following:
Provide us with a URL for your business website if you have one. This can be done in at my.izettle.com under Settings > Receipt information in the "Website" input field.
Make sure you have provided detailed names and descriptions for all your products.
We may email you to ask for more information about your products and services. If so, please reply to our email with any additional information you can provide, e.g any other ways you are advertising or selling your products such as blogs, LinkedIn, Facebook, etc.
Please note that you must pass both identity verification and account review in order to sell online with iZettle. For example, we might have verified your identity but if we find that your products contravene our Terms and Conditions we will not be able to offer you a credit card processing facility. Alternatively, we may love your products but if we are not able to verify who you are and then we will not be able to process credit cards for you.
How long does it take to get approved?
Once you've submitted your information to iZettle, our verification team will review your account for approval. This process can take up to 24 hours during business days, so don't worry if payments aren't enabled immediately. Please note that approval of your store can take a bit longer during weekends.
You can check the status of your application in your E-commerce dashboard under Settings > Check out. In the screenshot below you see that the iZettle payment option is in "Pending" state, which means we are still looking into your application.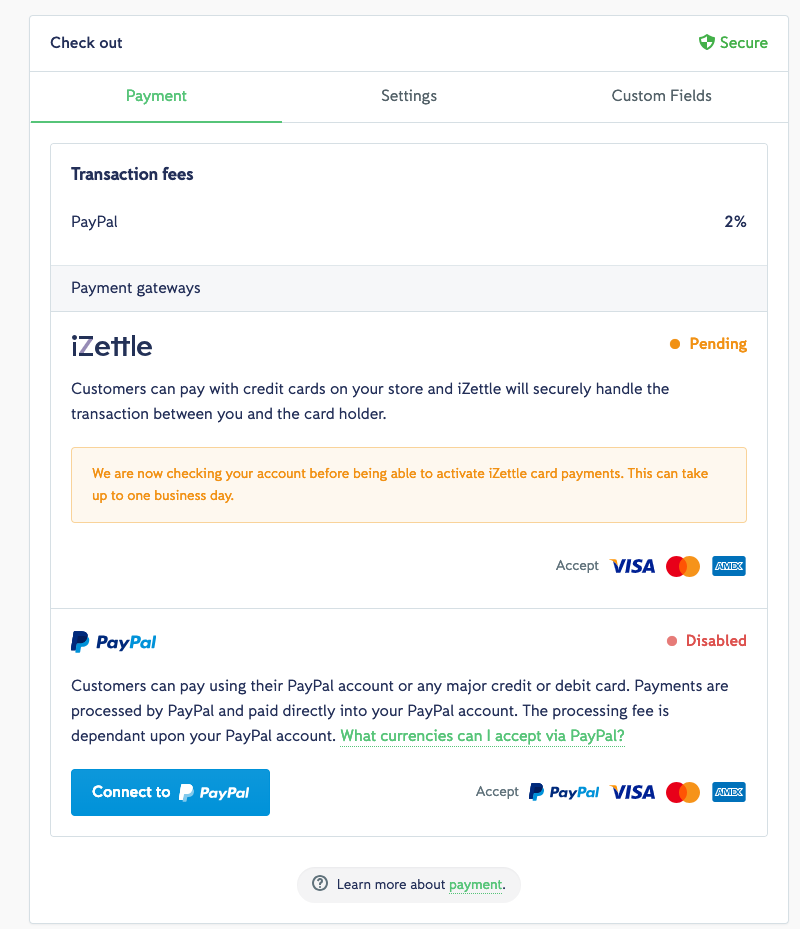 If it's been a few days and your account is not yet approved, double check your inbox for an email from us. In some cases, we require more information from you before we can approve your account. Please respond directly to that email from our verification team with the requested information.
Once your application has been approved we will send you an email and you will be ready to start taking card payments online.
If your application doesn't get approved for some reason, you can still accept payments via PayPal.
Was this article helpful?